In a sea of white gowns, it can be hard to know when you've found "the one". Yards upon yards of lace and tulle all start to blend together. The discerning bride may begin to feel as though she will never find the perfect gown for her big day. Enter: Jules Bly. With over two decades of experience designing bridal wear Jules offers a unique vision and a devotion to form and function. Her custom couture creations ensure that every bride finds her perfect fit.
Jules' attention to detail and understanding of fit and construction means that there is a gown for every body type. Simple lines ensure that the bride is the star of the show while natural fibers create an exact, comfortable fit every time.
We sat down with Jules to talk inspiration, design and the process of custom couture.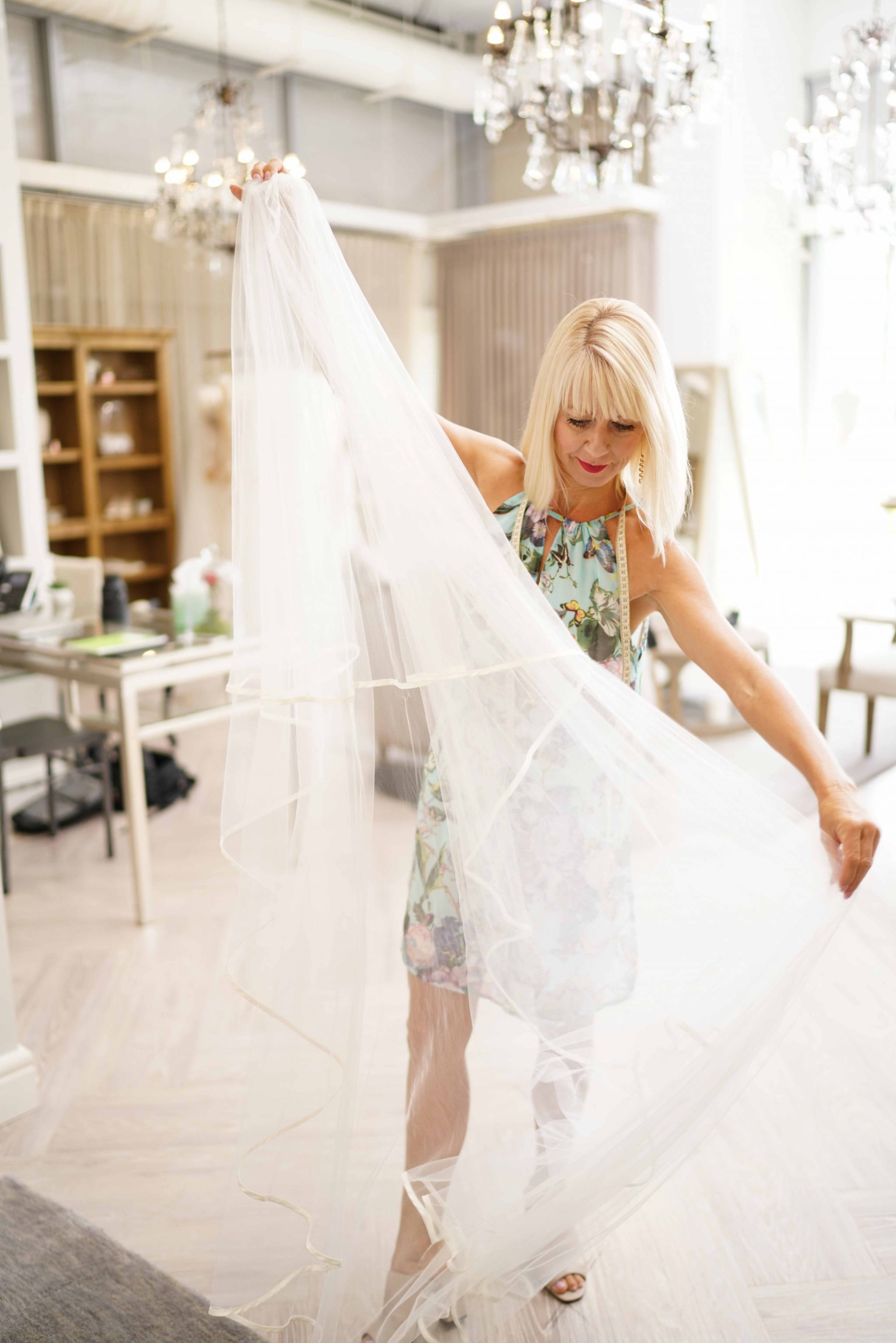 Custom design offers every bride the chance to take part in the creation of her dream gown. What is your favorite thing about designing custom?

Offering the experience and sharing my passion, sharing my knowledge. I've been designing and involved in weddings for 24 years which means that I've experienced a lot. Most brides have never gone through this process before so I'm able to offer guidance in many areas of not only the gown, also the styling and many aspects of planning.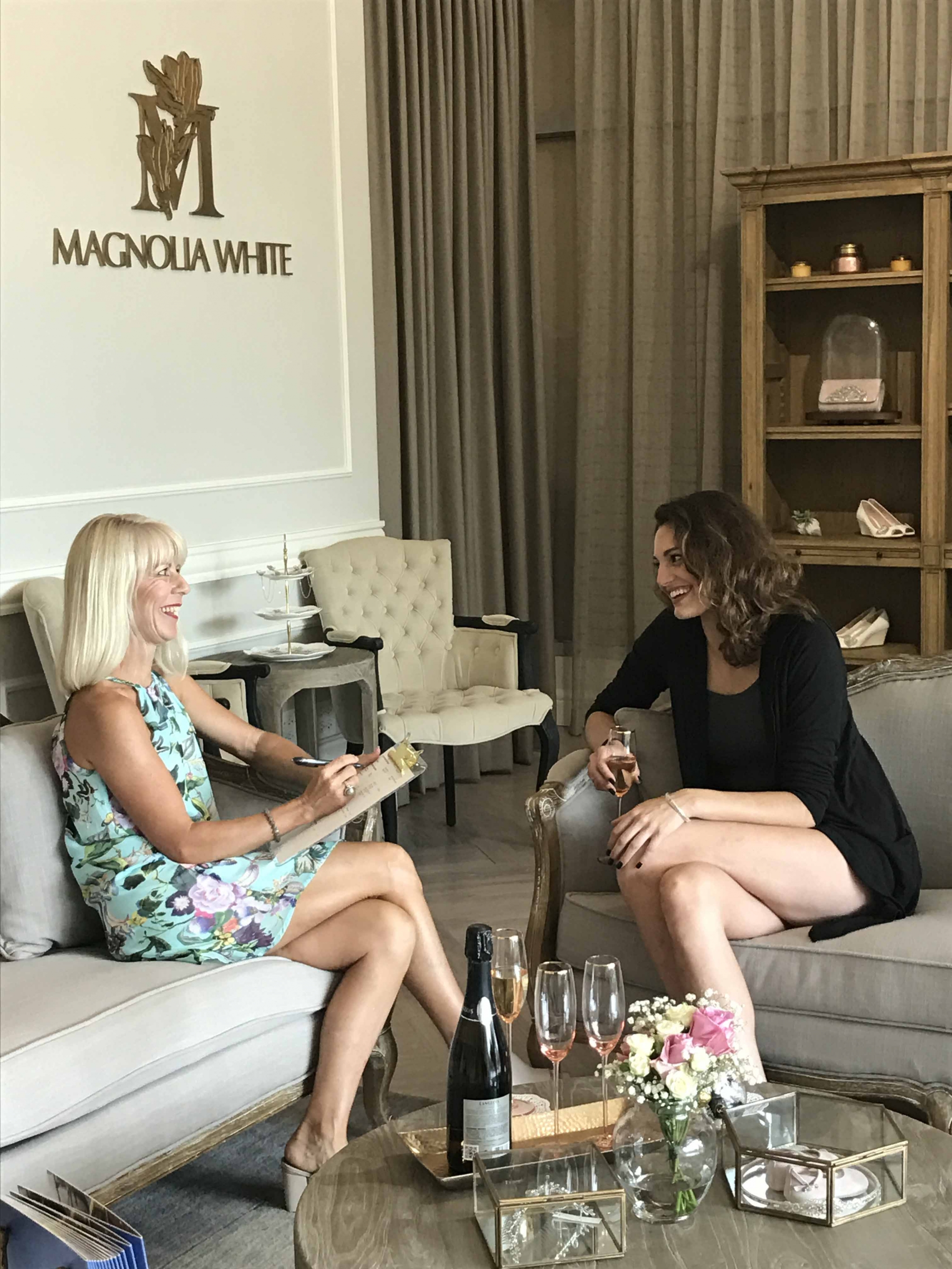 Do you have a favorite moment in the design process?

It's what I call the 'glamour moment' when I see the gown on the bride as she walks down the aisle or the runway. Designing a custom gown requires dedication to the bride and total focus to the gown itself. Often times there are a lot of midnights and beyond. The favorite moment

for me, is seeing it complete to ultimate perfection and then having the bride put the gown on and tell me that she loves it.
Explain to me the process of ordering a custom Jules Bly gown?

We start with a consultation and getting to know what the bride likes, what her ideas are; then once we've gone through that I'll do a figure shape assessment. I'll work out what is actually going to look good on her. After that I'll do a really quick sketch up of what she's told me and what I envisage.

From there we'll go to fabric selection. I'll show her different fabrics and laces - then we get draping! This is where she will stand in front of the mirror as I drape and pin fabrics. Essentially, I'll 'drape-create' the gown so she can get an idea of what it's going to look like when it's a finished gown.
Once she's selected her fabrics I make what I call a toile or a mock up in an inexpensive cloth. The toile is fitted to her and at that point she usually becomes quite overwhelmed because she can suddenly see her gown coming together. Once I've got the pattern right then I cut the actual gown out of silk. The bride comes for the first 'real' fitting. Most often when she puts the gown on for the first time, she cries. The fit of the actual gown is then tweaked because the silk is going to drape slightly differently, or sometimes she's losing weight.

Custom designs tend to graduate... I might say, "Oh! What if we added this" or we'll put something on and I'll say, "you know I really think it's going to look better if we don't put that there" That's the beauty of having a custom gown - it can evolve throughout the process which means that you get the perfect fit, you get the perfect proportion. It can be an evolution- that's the fun part of the gown journey.
What sparked your interest in fashion design?
I started designing when I was four years old. I picked up a needle and thread and started making dolls clothes. It has always been something that's been in my blood.
It has been the only thing I've ever wanted to do.
Tell me about your style and how you balance traditional techniques with contemporary designs.
For me there is a lot of traditional in my gowns. I always think that this is a wedding gown; this is a gown that you're going to be looking at pictures of and showing your granddaughter when you're a grandmother. They're going to hang on the walls; everybody is going to see them. In the eighties when Lady Diana got married. She had a gown with sleeves bigger than her head- that sparked that trend and now whenever you look those images they just screams eighties at you! To me design is about the perfect balance and proportion. My aesthetic is a harmony of contemporary and wedding. That is simply the way, as a designer, I see it.
Why did you decide to focus on bridal design as opposed to evening wear in general?​
After working in high fashion for about three years an opportunity arose . That's when I discovered my passion. I love the intricate detailing and I love all that it encompasses. I love making people happy and so to make someone happy on the happiest day of their life is the ultimate joy.
What is the process when you design a new collection like your Floating on a Dream line?

Usually I'm inspired by something. It might be a little vignette of foam blowing across the beach or it might be something I see in a fashion store. It might be some plant in the garden and the way that it's formed. It could be a shell, it could be anything. I just see something and I think "oh, I know" and I start creating from that inspiration. When it's time to put a collection together often I've already got a bunch of sketches. I always carry a little book with me. If an idea comes then I'm sketching.
I have folders of designs that have never been created that sometimes I refer back to but typically when I put a collection together what I'm doing is I'm thinking about body shapes. I'd like to think that within my collection there is something for every body. I review the collection and think "this one is for the girl with the big shoulders and the narrow hips" and "this is the girl that's got the pear shape with the big bottom and narrow shoulders. I go through the different figure shapes and I assess that I've got something in the collection that would be good for each one. Then I add in my signature gown or my "queen bee" of the collection - that's the one I do for me- the one that is my 'free-style'.
Is there a certain type of bride that you have in mind when you're designing?

I design my collections for brides that are confident, self-assured. Typically, they'll be paying for their own weddings. They are usually women who are quite independent, are fit and have worked on their bodies or are proud to show off their bodies although I do cater to those girls that still have the confidence however they might not have the model figure. Often a lot of girls will want to be in the best shape they can be. What comes along with them working really hard on their bodies and nutrition is a really lovely confidence in themselves. They get to their wedding day and they're super glowing- it's such a nice thing to be a part of. I did competitive body building in my twenties as well as I worked as a personal trainer. Often when I deal with brides on a custom couture gown I am able to impart my knowledge in that regard; I can help them with their nutrition and I can help training plans. It's kind of like a little bonus package they get.
Who are your style icons?

That's an interesting question. I don't really have any. I think I'm so focused on what I do. I think as a designer you can start to become insecure in your own creativity if you're constantly looking to others for inspiration. Although I do love Coco Chanel, I do love her story (although a little tragic) and I do love her style. I love Karl Lagerfeld, I always have, and I think he's an amazingly talented designer.

What do you think is important for a bride to keep in mind when she's staring this journey of finding that perfect dress?

I guess it's to enjoy the journey and, for me I like to give the service that makes the wedding gown journey as memorable as the wedding day itself. The truth is, you are only going to wear the gown for five or six hours. So when I work with my custom brides or even when I'm selling off the line I let the girls leave the gowns on so they feel like they become a part of it. If they're rushed through fittings they don't become emotionally attached to the gown. That is what a Jules Bly gown is- it's an experience; you're paying a lot of money however you're not paying solely for the gown, you're paying for the experience, you're paying for the journey therefore it needs to be a very happy, memorable one.
I remember hearing stories of the days back when my mother got married. Girls would have their gown made by their mother or their grandmother or even their neighbor- they were standing on the kitchen table while their aunt was doing the hem. There are those funny little stories that kind of make a wee vintage video in your mind on how it must have been back then. I want my brides to have those stories too. I want them to remember what it was like and I want it to be special for them.
When you're not designing or working with brides how do you like to spend your time?

I love running. I run every day- I run about sixty to seventy miles a week. I also love working out. I love walking my dog on the beach. I just enjoy my environment really. I love to cook for my friends because it gives me another creative outlet. Meditation is also very important to me. I meditate every day- it helps me keep my mind in a good space.
What do you think is going to be happening in the next couple of years in bridal? Are there any materials or design techniques you can see taking over the runways?

The feathery look is going to become more prevalent. Right now it's more of the boho-vintage look. That's been going on for a few years and I think the new look is going to become more refined. Lines are going to become clean again. Brides will go back to the more elegant lines, the glamor era of the fifties. It's a more sophisticated look. There has been a lot of volume, a lot of movement going on in people's collections and I think that we're almost done with that although it's going to take a couple of years to phase it out.
For Jules Bly Custom Couture designs contact Magnolia White in Honolulu. Through the month of November, Jules is offering a complimentary one hour consultation and draping session at our Hokua Tower salon. For appointments please call (808) 800-3088 or email info-hawaii@magnolia-white.com.
Photos courtesy of L'amour Photography.